Alot of people seem to be having trouble embedding YouTube clips into their posts so I thought I would make a quick guide for you all.
The normal way to post a YouTube is to simply paste the URL (web address) into the post:

Which makes the link appear like this on the forum:
G63 AMG: Super Sports Utility - CHRIS HARRIS ON CARS - YouTube
Instead you want to do the following:
1)
When you start your post on the forum, dont use the Quick Reply, but instead select the
Go Advance
button at the bottom.
2)
Now on the YouTube page, Highlight the unique section of the URL and copy it to your clipboard:

3)
Return back to your forum post, Paste the unique section of the URL, and then make sure you have highlight it.

4)
With the URL highlighted, click on the YouTube button on the forum toolbar: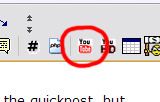 This will place a pair of 'Tags' around the address.
5)
Now complete your post and the YouTube window will appear in your post like so:
If your viewing this on an Apple device, or you dont have Flash it will appear as BORKED.